The series picks up a few days after Regoku's death by Akaza's hand, focusing on one of the Pillars, Uzui Tengen, and the entertainment district
Rengoku's family
Akaza meets Muzan disguised as a boy and pledges to avenge his fallen comrades by killing Tanjiro, who meets Kyojuro's brother Senjuro and his father Shinjuro, a former Flame Hashira, who reacts violently toward him. However, Shinjuro eventually reveals to Tanjiro that he is a bearer of the first breathing technique, called "Sun Breathing".
Later, Senjuro expresses his gratitude to Tanjiro for delivering his brother's message. After four months, Tanjiro, Zenitsu, and Inosuke accompany the Sound Hashira Tengen Uzui to their next mission: infiltrating the infamous Yoshiwara red-light district, where demons are said to be living.
The red light district
Tengen had sent his three wives: Hinatsuru, Makio, and Suma, to infiltrate the three largest courtesan houses in the district but had stopped receiving messages from them and was worried for their safety.
In order to find clues, he sold Tanjiro, Inosuke, and Zenitsu to the Houses and they were all accepted as workers. It was revealed that Makio, one of Tengen's wives, was held captive in a secluded room, being restrained by numerous obi (sash) and enduring interrogations from a mysterious female voice.
Investigating
Inosuke investigated a room he believed to be Makio's, expecting to face a demon only to find it empty. However, he quickly sensed something moving through the ceiling and walls and began a pursuit, though to no avail.
In the meantime, Zenitsu defended a girl from being scolded by Warabihime, a beautiful but intimidating Oiran (highest-ranking courtesan), recognizing her as a demon and being attacked by her in anger. It was later revealed that Warabihime was an Upper-Rank Six demon, named Daki and commanded by Muzan. Afterward, Zenitsu was taken care of by the girls he had defended and stealthily captured by Daki.
The fight begins
Tanjiro and Inosuke meet to exchange information, though their reunion is short-lived when they are interrupted by Tengen, who quickly realizes that Zenitsu is missing and urges Tanjiro and Inosuke to not risk their lives in search of him. Unwilling to leave him behind, the two re-arm themselves for battle and head off once more.
Tanjiro soon detects a scent coming from the direction of his house and returns to find Daki, who has absorbed the Oiran into her obi. The two begin to fight, with Daki easily overpowering Tanjiro. In an effort to protect her brother, Nezuko's box breaks, and Tanjiro must leave her stationary while he takes on Daki alone.
The Obi fight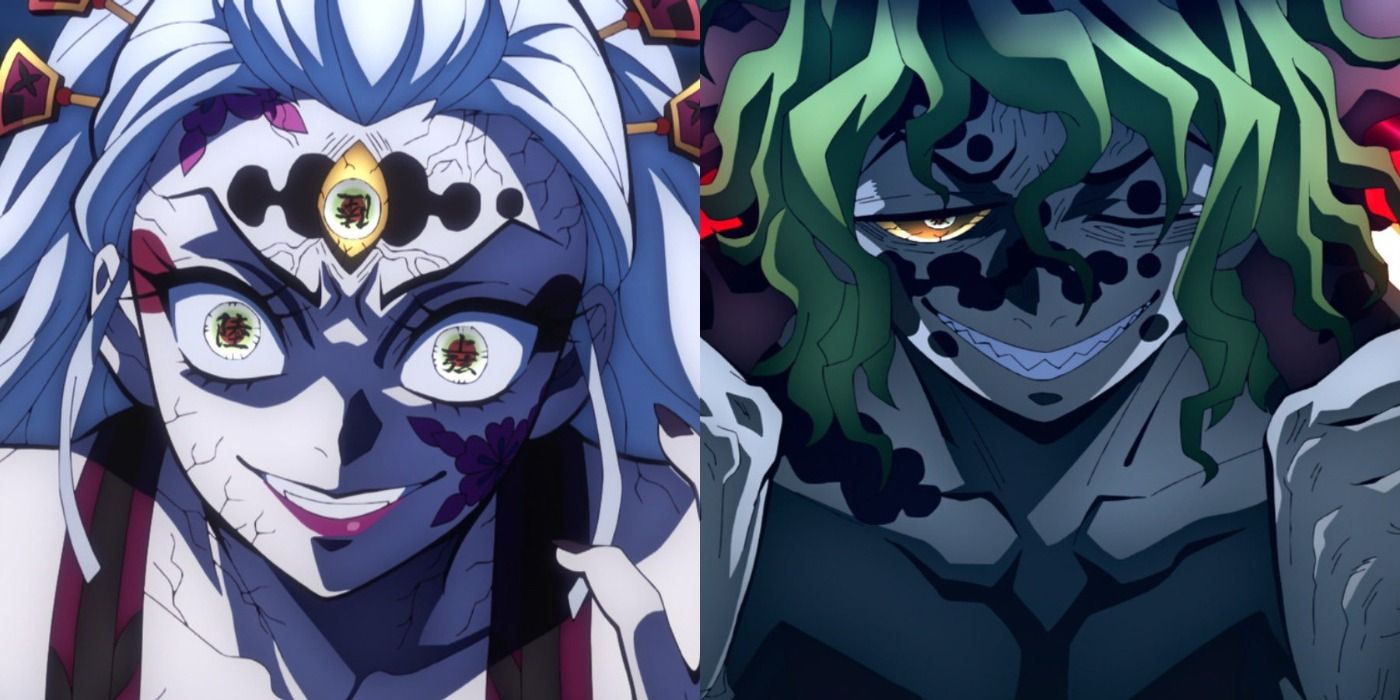 Tengen finds Hinatsuru on the outskirts of the district, though she remains unable to contact him due to having poisoned herself to escape. Inosuke discovers a narrow passageway under his House that leads to a cavern full of obi, which Daki has used to absorb her victims.
Inosuke tries to slay the obi but decides to prioritize freeing the people trapped inside. With the help of Suma, Makio, and Zenitsu, as well as Tengen himself, he manages to free them all. Tanjiro continues his battle with Daki, struggling to keep up with her due to fatigue.
Visions
Tanjiro battles Daki causing immense destruction and taking the lives of many innocent people. The enraged Tanjiro unleashes a series of powerful attacks, but Daki transforms her neck into an obi, making it difficult to cut.
Tanjiro collapses but is saved by a vision from his late sister. When Daki approaches the injured Tanjiro, Nezuko appears and destroys her head with a kick, leading to a fight between Nezuko and Daki.
Despite taking major injuries, Nezuko regenerates them almost instantly, throws Daki into an inhabited building, and goes to attack a civilian, but Tanjiro intervenes and restrains her.
Tengen arrives and beheads Daki, but her brother Gyutaro emerges from within her and begins to fight Tengen. Overwhelmed, Tengen struggles to stand his ground while protecting the civilians. Tanjiro manages to calm Nezuko down and the group works together to defeat Gyutaro.
Zenitsu and Inosuke defeat Daki
Tanjiro and Tengen face off against the powerful Gyutaro. Meanwhile, Zenitsu and Inosuke face off against Daki, with Inosuke eventually managing to see off her head. However, Gyutaro appears and stabs Inosuke, retrieving Daki's head.
Despite their efforts, Tengen is injured and Tanjiro is left devastated. In the end, Zenitsu saves Tanjiro from an incoming attack, reminding him that they must keep fighting.
Tanjiro finally defeats Gyutaro
Despite being at a disadvantage, Tanjiro refuses to give up, fighting with everything he's got to protect his friends and sister, Nezuko. In the end, he's able to immobilize Gyutaro and, with the help of Tengen and his fellow Demon Slayers, behead him.
However, the victory comes at a cost as they are all injured, but Nezuko uses her Blood Demon Art to burn away the poison and save everyone. The aftermath of the battle reveals Gyutaro's tragic past and the impact of his death on the demon society.
Meanwhile, Tanjiro is praised by Obanai Iguro, the serpent Pillar and Kagaya for his potential and bravery, and the group takes a moment to embrace each other and reflect on their survival. With one less Upper-Rank demon to worry about, the group sets their sights on their ultimate goal: defeating Muzan and ending the demon invasion.
read other anime recaps here:
Demon Slayer: Mugen Train Arc Recap