With season two well underway now, another key visual has been released featuring Rudeus and others.
Series Synopsis
Despite being bullied, scorned, and oppressed all of his life, a 34-year-old shut-in still found the resolve to attempt something heroic—only for it to end in a tragic accident. But in a twist of fate, he awakens in another world as Rudeus Greyrat, starting life again as a baby born to two loving parents.
Preserving his memories and knowledge from his previous life, Rudeus quickly adapts to his new environment. With the mind of a grown adult, he starts to display magical talent that exceeds all expectations, honing his skill with the help of a mage named Roxy Migurdia. Rudeus learns swordplay from his father, Paul, and meets Sylphiette, a girl his age who quickly becomes his closest friend.
As Rudeus' second chance at life begins, he tries to make the most of his new opportunity while conquering his traumatic past. And perhaps, one day, he may find the one thing he could not find in his old world—love.
Via: MAL
Key Visual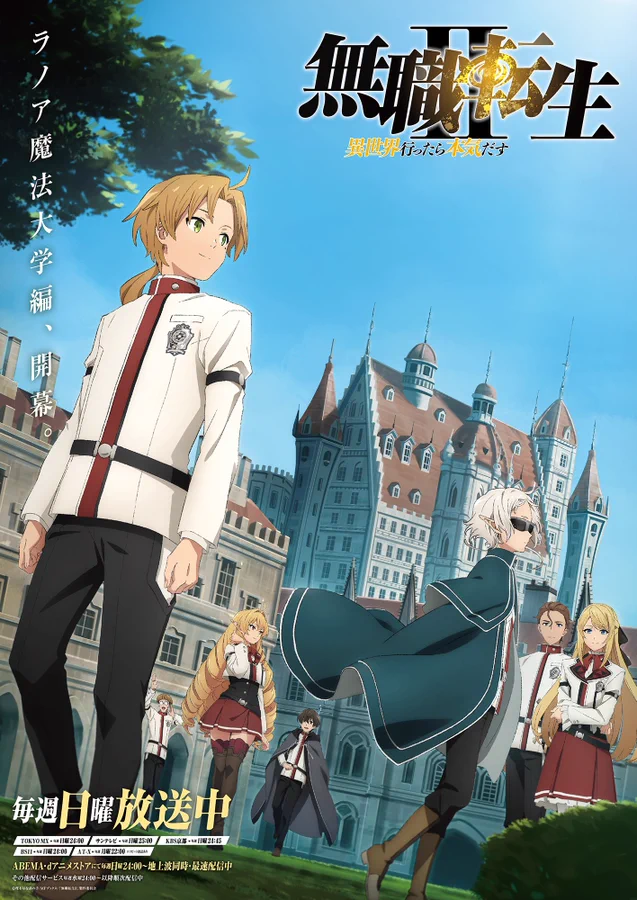 Season Two Synopsis
Season two adapts volumes seven onwards of the light novel series, and follows Rudeus now as a grown teenager travelling the world in search of his missing mother.
We've covered the entirety of Mushoku Tensei here at LAN in our reviews and recaps, check out our recap of season one part one here.
And while you're here, check out our other posts at LAN. We cover everything anime related and are always doing our best to bring you the latest news and episode reviews! Today our recommendations are Luffy's Gear 5 Explained and Why You Should Be Excited, Top 10 Anime Where the MC Gets Abandoned for Being Weak but Returns Overpowered, and Top 10 Uncensored Ecchi Anime That You Need To Watch!