The isekai light novel "Potion-danomi de Ikinobimasu!" or "I Will Survive Using Potions" in English has revealed a second PV.
Synopsis
Kaoru Nagase died unexpectedly while walking home from her office job one night, and she suddenly finds herself in front of a man dressed in white. The man introduces himself as God and apologizes for his mistake that resulted in her untimely demise, vowing to make it up to Kaoru by reincarnating her into another world. The next world's goddess, Celestine, reforms Kaoru's body and gives her all the concessions she asks for: the body she had when she was 15, the ability to make potions with effects of her choice, and a box with infinite storage space, to name a few.
But soon, Kaoru realizes that, despite being told otherwise, this new medieval world doesn't have much in the way of magic, causing her potions to be highly sought after by greedy nobles. However, by using knowledge from her previous life, she just might find a way to survive in this world using her potions.
Via: MAL
Key Visual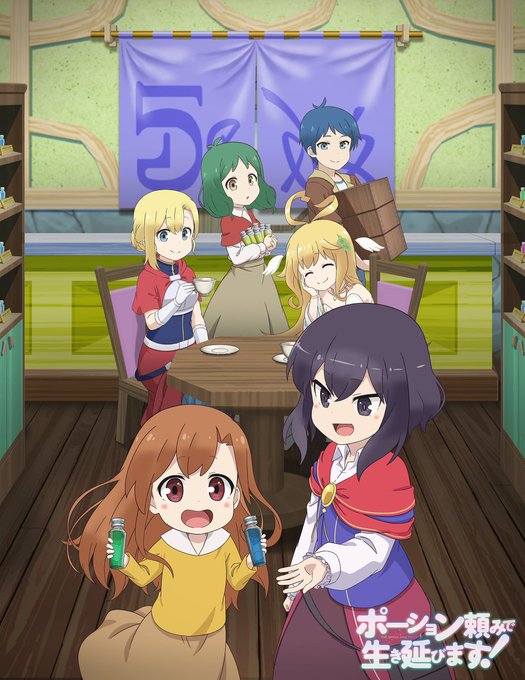 New PV
Here's the main trailer that dropped a few weeks ago if you haven't seen it yet:
As shown in the new PV, the release month is October. The ending song has also been revealed to be performed by Harmoe, titled "Love is a potion".
Check out our other news at LAN. We cover everything anime and game related, always doing our best to bring you the latest news and episode reviews! Today our recommendations are Kaiju No.8 Drops New Visual, Aquarion: Myth Of Emotions TV Anime Announced, Key Visual And PV Revealed., and Record of Ragnarok Collaborates with Shazam: Fury of The Gods.